"This year will be different. This year I'm not going to put on 5-10 lbs between the months of October and January. This year I'm not going to feel so run down I can barely stay up until midnight to celebrate the new year. This year I'm not going to lose my cool when a challenging family situation pops up. This year I am going to enjoy the holiday season. This year is going to be different."
How many years have you been repeating something like that to yourself? How many times have those words actually created a change ? So, the real questions are: HOW is this year going to be different? WHAT are you going to do this year that you've never done before? WHY is it important to you to make a change?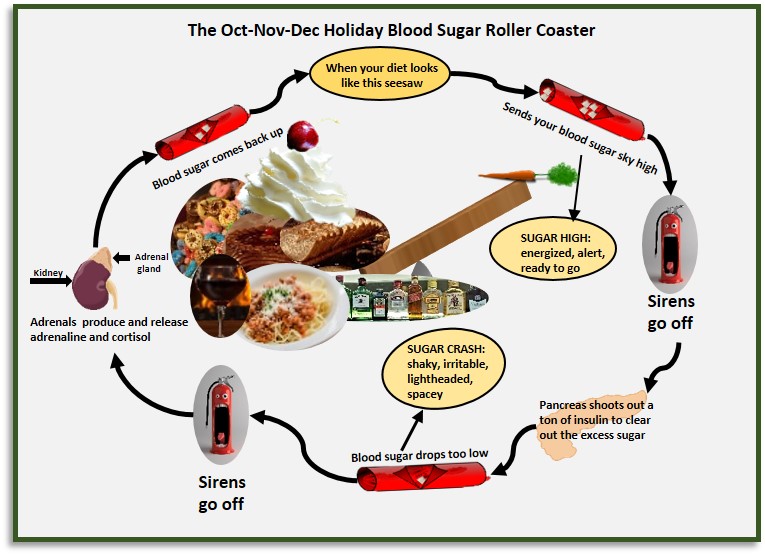 Let's simplify the real health challenges of the holiday season into: Sugar & Stress.
In Part One of The Holiday Balancing Act, we will focus on how to prevent sugar (hate to tell you that your body converts things like alcohol, bread, and pasta into sugar (glucose) pretty quickly, so keep that in mind) from wreaking havoc on your weight, your health, and your sense of well-being. To the right is a simplified look at what happens when you eat an unbalanced diet high in simple carbs (pastas, breads, sugar, candy, cake, pastries, white rice, etc.). This diet, which most of us slip into from Halloween to New Years, is the driving force behind inflammation, weight gain, lethargy, diabetes, and heart disease. Take a look...
Now, the holidays are not a time to deprive yourself of all the amazing foods and beverages that you love, but there are ways to help keep those treats from derailing you for months to come. Here are 7 ways to save your waistline, energy levels, and sanity this holiday season.
Want to know if you
are already on the
Blood Sugar Roller Coaster?

Click on the image below
to take a quiz and find out.


.




P.S. Don't think for one second that you can't cook up the most amazing holiday feast and still keep your blood sugar in check! Asparagus and cheese souffle, Bacon wrapped shrimp, butternut squash soup, sweet potato bacon tots, and Thanksgiving stuffing meatballs are just a few examples of delicious balanced dishes. Here is a longer list of tasty holiday recipes to help keep your blood sugar happy.

7 Ways to Avoid the
Blood Sugar Roller Coaster:


Eat Breakfast and Ditch the Tall Glass of Fruit Juice


Start your mornings with a meal or snack that is high in protein and/or fat. You don't have to get too fancy here: Bacon, eggs (scrambled, fried, poached, omelet, etc), sausage, ham, butter, avocado, coconut oil, full fat milk if you can tolerate it. Just take it easy the bagels, bread, donuts, etc. Also, try looking past all the health benefit claims on your fruit juice label and look at the sugar content. Often times there is more sugar in a glass of apple or orange juice than there is in a coca cola. You are much better off getting those vitamins and nutrients from the fruit themselves or from other sources. For some inspiration to shake up your morning routine, here are some low carb breakfast ideas.

Don't Go to Bed on an Empty or a Carb filled Stomach


This will cause your blood sugar to go haywire while you sleep and it can wake you up in the middle of the night if your blood sugar drops too low. Eat some nuts, some cheese, a boiled egg, a few swigs of a protein shake (that is low in sugar), or anything else that is low carb.

Throw Some Protein or Fat on Your Bread or Pasta


I get it, bread is good. Bread is really good. So, if you just have to have that piece of toast, bagel, or Italian bread (my personal weakness especially if it is made in Brooklyn) make sure you compliment it with eggs, meat, avocado slices, butter and/or veggies. Same thing goes with pasta.

At a Party, Share a Dessert Plate with a Friend


The holidays bring out some of the most decadent and downright delicious desserts. To avoid a sugar coma, try sharing a plate of desserts with a friend. This way you each get to try a little of everything without feeling obligated to finish it.

Snack, Especially before a Holiday Party


Snack to your hearts content but make sure it is full of fat and protein. Plan ahead. Get some zip lock bags and fill them with nuts and or seeds and stash them in your purse/briefcase/work bag/workout bag, desk, night side table, and car.

Take it Easy on the Booze


Alcohol is an incredibly easy way to shoot up your blood sugar. Try cutting back a little and like every other step I've mentioned before, balance it out with a high protein/fat meal or snack. The worst thing you can do is drink on an empty stomach! Instead of a glass of wine, try a white Russian or Eggnog (just make sure they are made with full fat cream or milk).

If You Know You Will Need a Little Extra Help, Start Taking Some Gymnema


This is an herb used to help anyone who is struggling with blood sugar levels including those with Type I or Type II Diabetes. This herb also helps reduce sugar cravings.
---
Disclaimer:
The information provided on this site is intended for your general knowledge only and is not a substitute for professional medical advice or treatment for specific medical conditions. You should not use this information to diagnose or treat a health problem or disease without consulting with a qualified healthcare provider. Please consult your healthcare provider with any questions or concerns you may have regarding your condition.
Concerning External Links:
Thank you for visiting the Feel Well Chiro website. As a courtesy and for the convenience of our users some pages of our website provide links to other websites not managed or controlled by Feel Well Chiro. Feel Well Chiro does not endorse nor does it control or take responsibility for the content or information on any external website.
For more blogs and updates, go to my Facebook Page.